Wilson services can save you time and money, giving you peace of mind when it comes to the maintenance of your office. We are properly licensed, bonded and insured and offer "same day service."
Some of our previous customers
Among many other items we:
Replace acoustical ceiling tiles
Provide cubicle adjustments
Remove or paint over graffiti
Repair drywall
Texture and paint
Hang the big fish you caught this fall
Wilson Services has extensive knowledge of cubicle styles, fittings and additions. Comfort and ease of movement is key to productivity. We are expert in the adjustment of the cubicle space. We assemble, adjust and repair office furniture, install window coverings, change light bulbs and remove snow from walkways.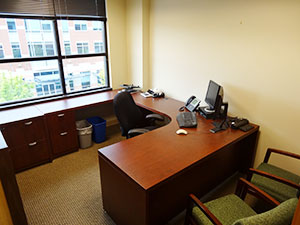 We will respond promptly to any request, whether you have an immediate project for us or would just like to talk about a project over the phone.
Since we started, Wilson Services has been doing cleanup and hauling. We have extensive knowledge in keeping your construction site, back yard, garage or work site clean and running smoothly. We clean up and haul:
Furniture
Fluorescent light bulbs
Electronic equipment
Lumber
Sod
Concrete
Metals
Trees and trimmings
Rock and dirt
Asphalt
Everything in between
Let us take the weight off your shoulders and save you time and money in the process.